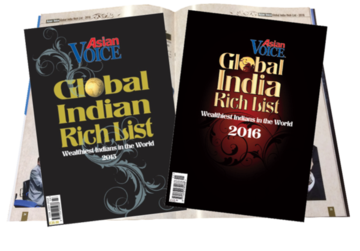 This is the only Rich List which combines Indians, non-resident Indians and persons of Indian origin or overseas citizens of India in a composite compilation. The qualification for inclusion on the list is a minimum net worth of US$1 billion or its equivalent. The entries are in ranking order beginning with the richest downwards.
All reasonable effort has been made to base selection on evidence and not hearsay. The net worth figures are, of course, best estimates and subject to fluctuation within short periods, given the volatility of markets.
The template for the compilation was created by Philip Beresford, one of the most experienced wealth estimators in the world. He has been compiling the UK's Sunday Times annual rich list for 27 years. It was invaluable that he worked to unearth the super affluent in the diverse Indian diaspora.
In the event of any inadvertent commission or omission, we would be only too happy to revise and update. Under no circumstances is the compiler, producer and publisher of the list liable for its content or any consequences or damages resulting from its use.
Methodology
The compilation emerged from a careful trawling of accounts of companies and assets of persons who are mentioned on the list. Candidates were valued on normal stock market multiples applying to the profits of their companies and in accordance with the sectors they operate in.
Where their firms were quoted on local stock markets, we took such values as the starting point of our calculations. We looked at dividend and salary information (where available) and have also probed debt levels.
The actual fortunes of those who have qualified for the list could be larger than our estimates. We measured identifiable wealth, property or significant shares in publicly quoted companies. We excluded bank accounts - to which we have no access - and small shareholdings in a private equity portfolio.
We examined many names which ultimately did not make the list, for we weren't confident their wealth came up to our bottom line of US$1 billion.