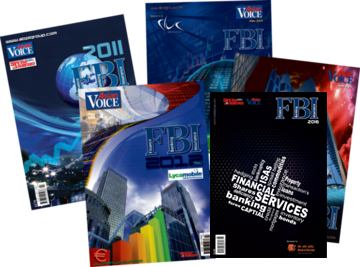 Focussing on news from the banking, finance, insurance, direct and indirect financial investment sectors, as well as the stock markets and capital markets, this special issue taps into the growing demand by our readers for information to help them secure their savings and maximise growth for their investments.
FBI covers a range of financial products and services including Business Banking, Financial Advice, Mortgages, Pension Services, Personal Investment, Stocks, Insurance (health, home, motor, etc), Accountancy Services and much more. Every year the magazine is launched at an exclusive venue by a leading industry figure and attracts a host of blue-chip sponsors.
The magazine has expert opinions, suggestions and tips on how to maximise your investments and take full advantage of latest changes in the market. It covers financial products and services, like Pension services, ISAs to Bonds, Bridging Finance, Spread betting to Building insurance. It also analyses the direct and indirect financial investment sectors and the stock markets.
It's a well known fact that most financial institutions also have large group of Patels, Shahs, Khans and Singhs, who are active private investors in the financial markets and are also key audience whom FBI magazine provides relevant access.
FBI has the unique distinction of being the only recognised finance and business publication tailored to meet the needs of the Asian community and provide its advertisers a perfect opportunity to profitably engage with the niche Asian community in a unique environment and display their products and services.
Every year this magazine is also launched at a gala event, over drinks and canapés at the House of Commons in presence of high profile and important audience, who influence the way our readers make investment decisions. Each edition of the FBI magazine is unique and launched every year by a high ranking Minister, in front of 250 investors, senior professionals, entrepreneurs, academics and opinion makers of the British Asian community.
The FBI magazines has been previously launched by Rt Hon Danny Alexander, Chief Secretary to the Treasury, Rt Hon Yvette Cooper - Chief Secretary to the Treasury, the Rt Hon Stephen Timms - Chief Secretary to the Treasury, Lord Eddie George - Former Governor Bank of England, Mr John Tiner- Chief Executive - FSA, Chuka Umunna MP, Shadow Business Secretary, the Rt Hon Dawn Primarolo, Kris Hopkins, Minister of Housing and the Rt Hon Paul Boateng.